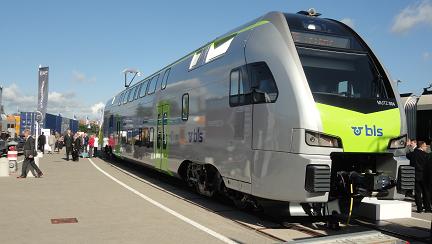 Capacity limit:
EPK masters world innovations of cargo carload and lokomotive engineering for Russia
Task – To carry maximum cargo at great speed
How to achieve – Considerably raise the resource intensity of bearing designing it in a special way, i.e. to build the bearing in the structure of the rotary element (wheel).
Consumers – JSC Russian Railways, Moscow Metro, enterprises of railway branch of the far-abroad and neighboring countries
Professional terminology - axle bearings, TBU, case bearings
System:
Worldwide leader of railway mechanical engineering (Amsted Rail) is presented in Russian bearing branch by the joint venture of European Bearing Corporation and Brenko company – EPK-Brenko. Brenko is a subsidiary structure of Amsted Rail holding.
Since 2009 in Saratov the innovative for Russia production site on manufacturing of the case bearings of EPK-Brenko type is operating. EPK-Brenko designers solve the problem of excessive deformation of axis which leads to corrosion and wear of the back surface of internal ring. EPK-Brenko bearings guarantee maintenance-free run of 800 thousand km, loading capacity - 25 t on axis, operation term - 8 years.
The following technological stage after the bearing, which improves wear resistance of the freight car, is axle equipment. This elastomeric structure of laying between the lateral frame and the adapter of the bearing improves arrangement of wheel pair against a path. Unlike the traditional cast-iron adapters the elastomeric laying makes the controllable linear moving of wheel pair possible at the smaller forces arising at entrance in a curve. Wheels are directed earlier that improves passing of a curve and reduces resistance to rolling movements. As a result wear of lateral frame, adapter of the bearing, wheels and rails essentially decreases.
Further the bearing and axle equipment are followed by a cast wheel and the cart. Peculiarity of cast wheel production is steel pressure pouring. Bearings with advanced characteristics operates at cars of all the model range. There are no analoges of Amsted Rail carts in Russia.
The scientific thought of the founders of EPK-Brenko railway bearings actively developed in North and Latin America, in Europe, Asia and Russia throughout the whole century.
In Russia and other CIS countries all the range of interests of Amsted Rail is represented JSC Transolutions CIS , working on the Russian market of railway vehicles since 1996. JSC Transolutions CIS is the leading partner of EPK.