Thanks to powerful capacity of the EPK enterprises in 2011 it was possible to provide all the got orders in full volume. So, for example, the contract was signed and bearings for the sum of more than 60 million roubles for the new equipment of JSC Gazprom were shipped. At the other machine building plant in Russia the equipment design with EPK bearings for oil industry was developed and implemented; for this purpose the corporation plants produced and shipped bearings under the contract for the sum of more than 25 million roubles.
As the whole during 2011 the considerable gain of sales was provided by the metallurgical enterprises of Russia with contracts for 2011 exceeding 30 million roubles, and in certain cases for more than 70 million roubles. Among others it was reached due to the development of the concept of the bearing for rolling mills essentially new for the corporation – multirow bearings with the guaranteed axial gap which is established on the high-precision equipment of the producer of bearings and remains in the guaranteed limit like both during installation and in operating time of the unit. One more successful example when in rolling mills of the old sample instead of two roller spherical bearings the four-row cylindrical bearing of a special series was designed and tested having shown thus four-time increase in durability of the unit.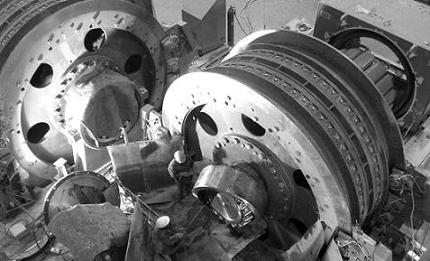 PHOTO: bearing 30032/850Х which is used in the drum of a skip machine (to lift rock from the mine), the diameter of external ring – 1,5 meters, weight – is more than 4 tons
Also the 2011 year did not appear to be an exception in respect to identification of counterfeit deliveries of bearings. Installation prevention of the bearing of more than 1,5 tons in weight in RAH support (Regenerative and Air Heater) at the regional power station was the most remarkable event. The engineer of RAH having the bearing received not directly from TH EPK and having a number of deviations revealed requested the origin of the bearing. As a result of the check carried out by TH EPK and the RAH security service it was revealed that this bearing was never made at corporation plants, it contains the worst deviations both on geometry and composition of the metal it is made that can cause emergency destruction of the bearing unit and RAH equipment as a whole.